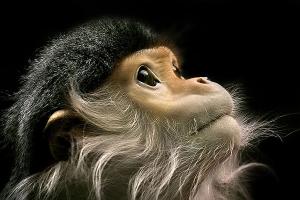 My photo of the day is an old one but a good one and my top seller on other websites. :) The "Red Shanked Douc Langur" is far my favorite primate of all.

CRITICALLY ENDANGERED! During the Vietnam War millions of bombs were dropped in the Langur Douc's forest home and huge swathes were defoliated with chemicals like Agent Orange, wiping out many plants and animals. Doucs were also used for target practice by soldiers and hunted for meat by subsistence hunters. Nobody knows how many Doucs survived, but it seems likely that their numbers have been devastated over big areas. They were previously observed in groups of 60 or more, now groups are rarely larger than 12

The "Douc's" can be seen only at the Philadelphia Zoo, PA!

It was my pleasure to photograph this lovely lady until her passing last year. Her son and another are still at home in Philadelphia.